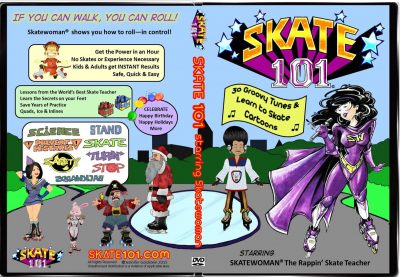 Skating is a world of fun, though learning can sometimes be slow and painful. But not with SKATE 101! The Skate 101 DVD contains 30 animated cartoons with funky, fun, and educational tunes that teach you how to skate safely. Get the power in under an hour! Skate 101 is the best skate class you will ever bring into your home! It's safe, convenient, quick and easy. No experience or skates necessary. Before you ever strap on wheels or blades, you can follow along on your feet and learn to skate to the funky beat. Skate 101 is fun for everyone!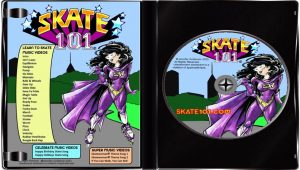 Learn how to gear up, get up, stand, skate, stop (three ways), turn, change terrains smooth like a snake, fall safe, prevent the eight mistakes beginners make, maintain your skates, and more.
Plus, you'll find super-funky Bonus Music Videos, including the Happy Birthday Skate Song, Happy Holidays Skate Song, Skate Woman Theme Song 1, Skate Woman Theme Song 2,  and Skate Woman skating live to "If You Can Walk, You Can Roll!"
LEARN TO SKATE MUSIC VIDEOS
Intro
Jen's Laws
Equilibrium
Navigate
Pump
Six Sides
Maintain
Balls & Wheels
Gear Up
Glide Slide
Save Ya Pride
Magic Table
Get Up
Ready Pose
Snake
Funky Duck
March
Football
Stroke
Worm
Pizza
Clock
Velocity
Rubber Heel Brake
 Boogie Back Rap
CELEBRATE MUSIC VIDEO
26. Happy Birthday Skate Song
27. Happy Holidays Skate Song
SUPER MUSIC VIDEOS
28. Skate Woman Theme Song
29. Skate Woman Theme Song
30. If You Can Walk, You Can Roll
Skating may look difficult, but it's nothing to be afraid of. Learn to skate safely, and save your behind with Skate Woman's rhythms and rhymes. Starring Skate Woman, with her funky and furry super friends. Skate Woman, the world's only rappin' skate teacher, is a one-of-a-kind superhero. She shows you how to save hides and prides, on quads, ice and inline skates!
Don't Wait, Learn How to Skate Now!
If you like Schoolhouse Rock, You'll Love Skate 101!
ORDER Your Copy of the Skate 101 DVD from our Shop.