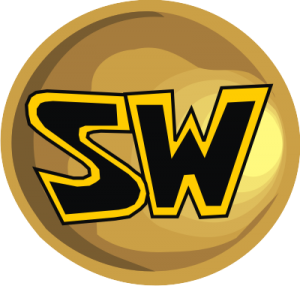 If you think there's nothing new when it comes to learning how to skate, you haven't heard about SKATE 101!
In the instructional and entertaining tradition of "Schoolhouse Rock," Skate 101 is something brand new from Jenny Jen, aka SKATE WOMAN!
Some superheroes travel to distant worlds and battle menacing monsters and villains.
Some can be found closer to home.
Jenny Jen, the SKATE WOMAN, is here! Jenny Jen has skated her way across magazines, newspapers, television, and radio– including Discovery's The Learning Channel, Comcast SportsNet, and a variety of shows on FOX, NBC, ABC and CBS.
The world's first and only rapping skate teacher, and skating superhero, is moving into new territory, helping young and old alike navigate the wonderful world of skating.
Skate 101 makes skating easy and fun for everyone. Jenny Jen Goldstein learned to skate the hard way– but you don't have to! Skate 101's easy-to-follow instructional rhymes are designed for ice, quads and inline skates. Step by step skating lessons explain everything you need to know before you go.
Jenny, who wrote her thesis at The Wharton School of Business, was studying at the University of Pennsylvania, while living in downtown Philadelphia. The public transportation system, SEPTA, threatened to strike and Jenny needed to find an alternate form of transportation.
She wasn't comfortable on a bike, but she grew up skating on the beach in Florida– and that was the ideal solution!
The city streets presented a challenge, which she met and conquered, going on to become a world-renowned skate teacher. She developed a method that incorporates music and rhymes to bring home the lessons, testing her songs on students, successfully combining learning with a unique sense of fun and wonder. Her students learned quickly.
And you can too!
Jenny has taken everything she has learned and practiced and brought it all together with music and catchy rhymes– easy to remember, understand and apply. Songs and videos make it simple. It's all about discovering the tools you already have, and how to use them to skate cool.
Music is a big part of Jenny's world of skating instruction. DJ's at skating rinks and other venues are playing her songs and videos all over the world, at public sessions, birthday parties and skate classes. These irresistable tunes will take their place alongside such timeless classics as the Hokey Pokey and the Chicken Dance.
Skate 101 explains everything you need to know to roll in control. The music videos provide funky tunes with educational cartoons.
Jenny also has snappy, colorful comic books that instruct and entertain at the same time.
Kids will love it all, and so will their parents. Skating is a world of fun, and Skate Woman's Skate 101 is a wonderful starting point for a lifetime of enjoyment and achievement!