My First Skate Books Super Series are Available Now!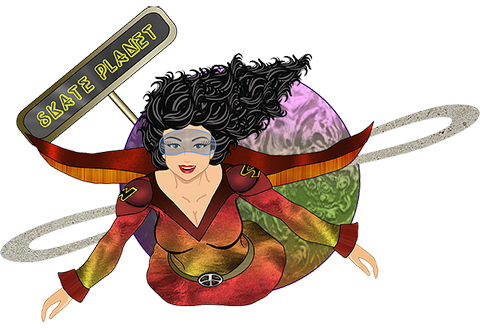 These brand new comic books are unique and fun for the whole family! Learn about the different styles of skates, take a trip to the skating rink, learn how to skate, celebrate a birthday party and more!
Shop eBooks Now
Welcome to Skate 101, Learn to Skate & Stop Shop!
Learn to skate with Skate Woman's easy to use instructional skate music and videos. Skate 101 teaches beginners of all ages the necessary skills. Not a beginner? No problem! Whether you're a pro skater, parent, teacher, or the proprietor of a skating rink, Skate 101, was designed with you in mind! Beginners will learn the basics and work their way up, while experienced skaters can greatly improve their skating skills. Skate 101 is unique, because it is designed to give students what they will need in order to teach others. Parents can educate their kids before they lace up their skates to attend a skating birthday party or visit the local rink. Skating rinks can enhance their public sessions, skate classes, and birthday parties. Check out Skate Woman's awesome collection of teaching tools!