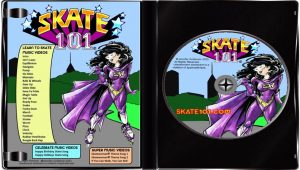 SKATE 101 DVD: 30 Animated Cartoons with Funky Tunes.
Download the complete collection of Skate Woman's instructional skate tunes on the Skate 101 DVD, for just $19.95!
With this video collection, you'll not only learn how to skate, you'll also get great ideas for celebrating birthdays, holidays and More. Save years of practice, and Get the Power in Under an Hour!
Skate 101 is the best skate class you'll ever find! It's safe, convenient, quick and easy. No previous skating experience is necessary. You don't even need a pair of skates to learn the basics! Just follow along on your feet and learn to skate to the funky beat. Skate 101 is Fun For Everyone!
Plus, you'll find super-funky bonus music videos, including the Happy Birthday Skate Song, Happy Holidays Skate Song, Skate Woman Theme Song 1 and Skate Woman Theme Song 2.
FILE SPECIFICATIONS: DVD was encoded to MPEG-4 using h264 compression, 720×480 DV NTSC display and AAC audio. Duration is 01:20. File size is 1.32 GB.
Download the Skate101 DVD today.